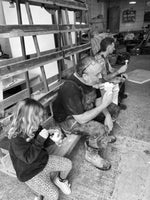 Hey There!
We are a London based specialist creator of colourful
concrete homeware. 
Born out of a love for this natural material, our small team work from an East London studio, employing ambitious techniques in blending and casting of concrete and pigments to
produce stunning pieces, small and large, that become the talking point of any room in the home.
Alongside our smaller homewares, the business has evolved over the years to work on larger pieces such as dining tables and sinks along with large scale bespoke projects in hospitality and commercial buildings. 
Each piece is hand cast and unique, a piece to treasure. 
Shop our online collections to browse our full range of concrete products, or visit one of our independent stockists.
For trade enquiries, or if you are interested in commissioning a bespoke piece, please drop us a line.
Contact us
Buy Our Concrete Products Online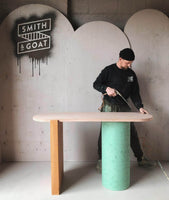 Commissions
We create hand-cast, bespoke concrete designs for residential and commercial use, including tables, kitchens, fire places, sinks, retail fixtures and signage.
Let us know what you love and we can work with you to design something unique for your home, office or retail space.
Find Out More